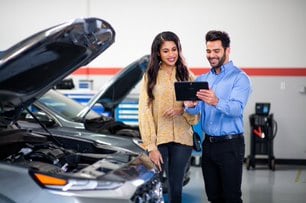 Proper car care is important, and if you have any questions about Hyundai service, you should ask them! Our skilled mechanics at Heritage Hyundai Towson are here to answer your questions and give you the knowledge you need to keep your car in top shape.
Here are some of the questions we hear frequently. Yours might be on the list!
Why Is Routine Maintenance So Important?
Routine maintenance keeps your car in better shape and allows our mechanics to spot small problems before they become large ones. Skipping out on simple services like oil changes and tire rotations can result in expensive damage and big repair bills later on.
Do You Use Official Hyundai Parts?
When making repairs, we use only official Hyundai parts. These are components right from the manufacturer of your vehicle, so we know that they have been held to a high quality standard and developed with your car in mind.
Do You Offer Express Service?
Yes, our service center does offer express service. It only covers certain maintenance tasks, but our list of express service offerings is quite comprehensive, and we might just cover exactly what your Hyundai car needs.
Can I Finance My Repairs?
Sometimes a car repair bill can come along unexpectedly and really mess with your budget. We get it. That's why our dealership offers repair financing so that you can pay off the cost of some services and parts over time, instead of all at once.
Can You Help Me Find New Tires?
We're also a certified Hyundai tire center, so the answer is yes! We can help you find new tires if your current set has worn out, or we can help you find different types of tires like snow tires or performance tires.
If you want to learn anything else about car care or our Hyundai service center, visit our website or drop by our state of the art facility. We look forward to assisting you!