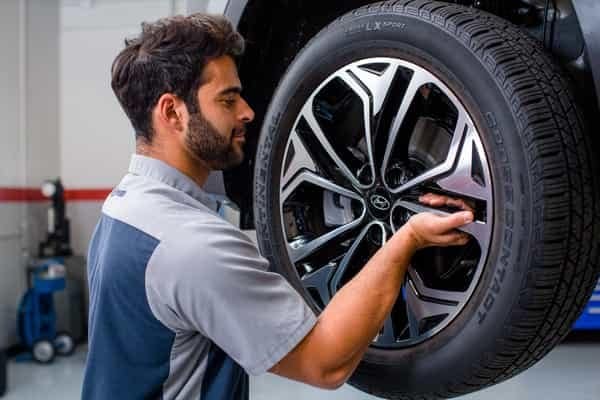 Because tires are an extremely important part of your car – especially now that we're in the slippery season – you don't want to go just anywhere to get them. As your local facility for "Hyundai service near me," choose Heritage Hyundai Towson when you need new tires for your Hyundai car or SUV. Why should you buy from us?
To Get the Right Tires
Tires, for the most part, all pretty much look the same. Your car requires a specific kind, however. Not only do they need to be the correct size, but they have to be the right fit for your model, trim, and year.
To Get an Expert Installation
Putting on a tire or a set of tires may seem easy, but there's more involved than you might realize. In addition to just putting them on, they also need to be balanced. Plus, it's also a good idea to have the alignment checked with new tires. Only experts can offer all of these services in one spot.
To Get Peace of Mind
You can count on the service center at Heritage Hyundai Towson for both of those things, but you will also get something else: road hazard coverage for two years. For eligible tires, this means 100 percent coverage for the first year and 50 percent coverage for the second. This will give you great assurance that if something does go wrong with your tires, the issue will be fixed affordably.
Shop Our New Tires Today
Keep our Hyundai dealership in mind the next time you're shopping for tires. We make the ordering and installation process quick and easy.